If you have a heart for seniors and are a caring, positive and reliable person, we may have a position ready for you! At Timber Ridge, our residents deserve the best, so we're looking to hire the best. Whether you have a passion for working in healthcare, management, food and beverage housekeeping/ janitorial, security, resident activities, or reception, we invite you to explore opportunities with Timber Ridge at Talus.
We offer a work atmosphere that is friendly and encouraging while providing opportunities for employees to learn and grow in an environment where they're recognized for their contributions and years of service.
We offer great benefits AND…
  Free Lyft rides, if needed, to and from the Issaquah Transit Center.
  Free underground parking.
  Free meals.
  Employee referral plan for a $500 bonus, per policy guidelines.
  Your personal and professional growth is important to us, so we provide continual professional training and career advancement opportunities.
  You will enjoy being part of a great team in a fun, engaging work environment!
Timber Ridge at Talus celebrates diversity, and we are committed to creating an inclusive environment for all employees.
Timber Ridge at Talus is proud to be an Equal Opportunity Employer and is committed to providing a workplace free of discrimination and harassment of any kind. All qualified applicants will receive consideration for employment without regard to race, color, sex, sexual orientation, gender identity or expression, religion, national origin, age, veteran status, disability, or any other characteristic protected by law.
All Timber Ridge employees must pass background checks and other pre-employment requirements. We are an E-Verify employer.
Many roles in the community may require that we ask about your vaccination status. This could include MMR, chicken pox, hepatitis, flu and COVID-19 vaccine status. Please note that all employees are required to provide proof of COVID-19 vaccination, or apply for and receive an approved exemption, as a condition of employment.
What Is Your Why?
"Both the residents and the staff at Timber Ridge are truly amazing. It's such a great feeling knowing that the work I am doing is helping the residents live a longer, healthier, and happier life. The best part is you feel like you have hundreds of grandparents every day you come into work, and you always feel this sense of belonging not just with the residents but also with the staff. Being able to do the work I am already so passionate about is just the cherry on top."

Erica Weisfield, Fitness Manager
Hear from our employees why they love working at Timber Ridge
Our Benefits
We offer some great reasons to consider working at Timber Ridge at Talus. We treat our employees well offering a comprehensive benefits package to eligible full-time and part-time employees (working a minimum of 20 hours per week), on-going training and development, and the opportunity to advance your career. Our competitive benefits package includes:
Medical | Dental | Vision
Short-Term & Long-Term Disability | AD&D | Life Insurance
401K with company matching
Health savings account / Flexible spending account
Employee assistance program
Pet insurance
Employee discounts
Paid time off
Eight paid holidays
Free meals
Free underground parking
Tuition reimbursement
Free Lyft ride to and from the Issaquah Transit Center
Onboarding bonus for eligible positions
STAR Spotlight
Serving from the Heart
Treating with Dignity & Respect
Advocating for Others
Restoring Quality of Life
Briarwood (the Health Center in Timber Ridge) has a STAR board, where staff can nominate one another for outstanding performance and appreciation. The current STAR Award is held by Raquel Onato. Upon Raquel's award acceptance she shares that "it's a blessing to work here in Briarwood. The residents are truly nice and warm. And I love working with my bosses and co-workers who became my friends. Briarwood is like my family." A supervisor in Briarwood said "Raquel is a gem. She is a fantastic employee with a positive attitude, great work ethic, and an obvious passion for caring for people. We are blessed to have her part of the team."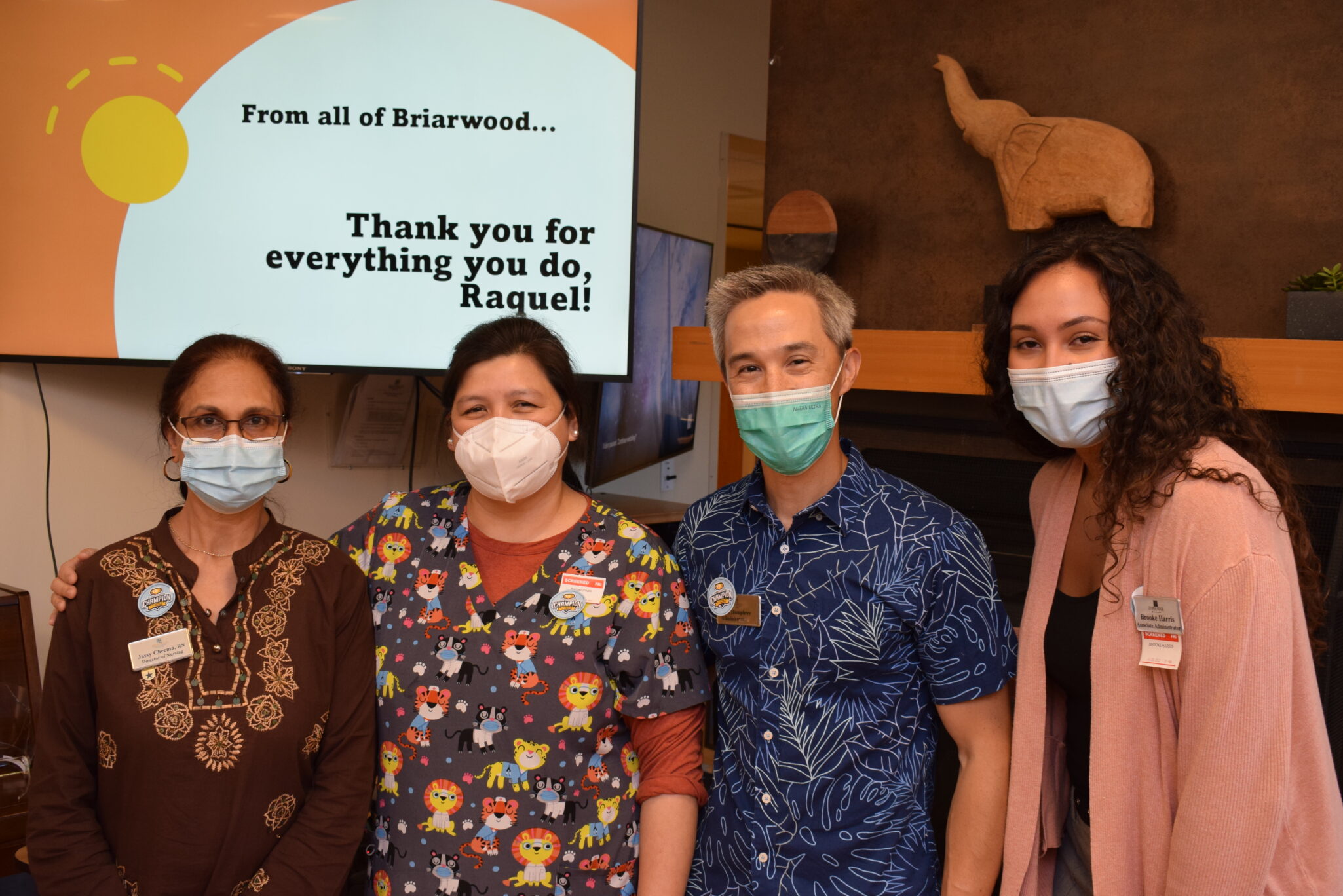 See what people have to say about working at an LCS community